How to Restore Old Photos
Pictures are the best way to remember memories for a lifetime. Now, rediscover your best moments in life with Phot.AI's Photo Restoration feature.
Table of Contents
Introduction
Having trouble holding on to your favorite old memories because of damaged old photographs? Easily fix your old family pictures or old images of your loved ones with our AI-algorithm-based restorer. We are here to make your photo editing smarter, simpler, and quicker.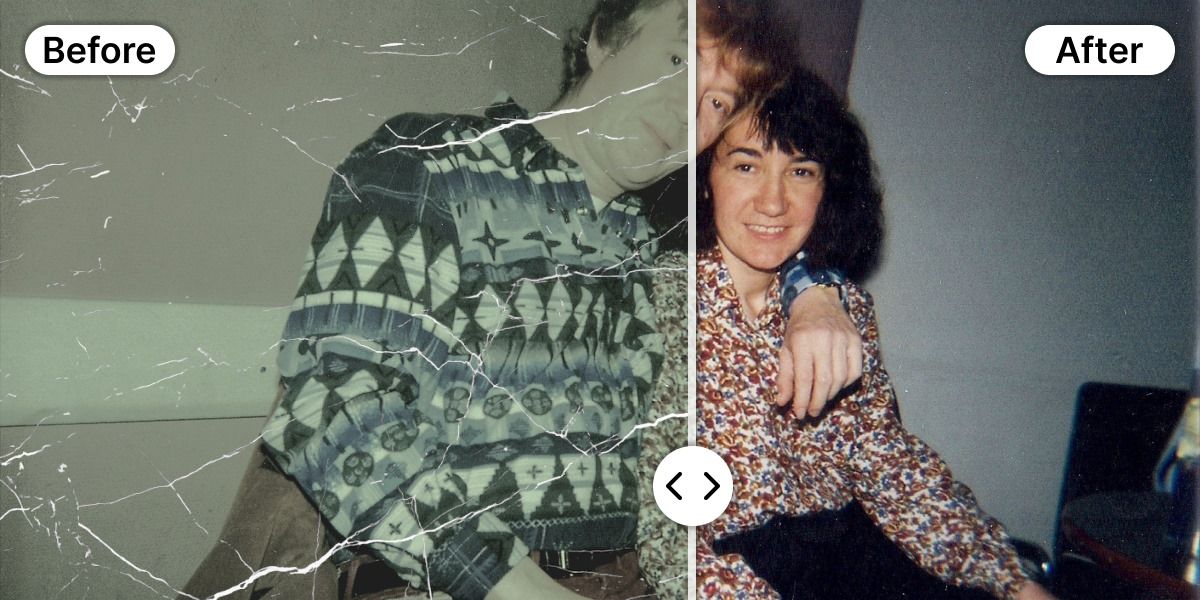 Our AI-implemented Photo Restore tool enables you to restore your old and damaged images with just one click. If you are someone who does not have considerable skills and needs to restore your old pictures, then Phot.AI's latest Photo Restore feature is a handy tool for you.
Our tool is designed in such a way that it can perform photo restoration 100% automatically. We help you convert old blurry photos into outstanding new ones instantly!
What is AI Photo Restoration?
Restoring an old photo requires enough time and excellent photo editing skills. But not anymore! Old photo restoration can now be done in a couple of minutes.
We all know that photo restoration is a process of digitally enhancing old, blurry pictures to give them a new look. AI Photo Restoration involves an artificial intelligence algorithm that enables users to restore old images effortlessly.
AI Photo Restoration adds magic to your vintage photo collection. It captures all the intricate details with 100% perfection.
With Phot.AI, you can store all of your favorite memories.
We all often get nostalgic while cherishing beautiful memories from the past. Therefore, Phot.AI has introduced an excellent old image restoration feature that helps you relive those moments of joy.
Get all your cherished memories saved digitally for a lifetime with our AI-implemented photo restorer. Our restoration feature works best in portrait photography, monuments, vintage objects, old family pictures, and many more.
Your old, vintage images can be enhanced and restored using this newest photo-restoration tool's highly sophisticated AI technology. It also enables you to add colors to your old pictures to give them a vibrant look.
How do you restore old photos?
Phot.AI's Photo Restore tool is 100% automatic, and it can restore old images within a few seconds. All you need to do is follow the steps that have been mentioned below.
1. Go to your web browser.
2. Visit Phot.AI's official website.
3. Create an account or sign in.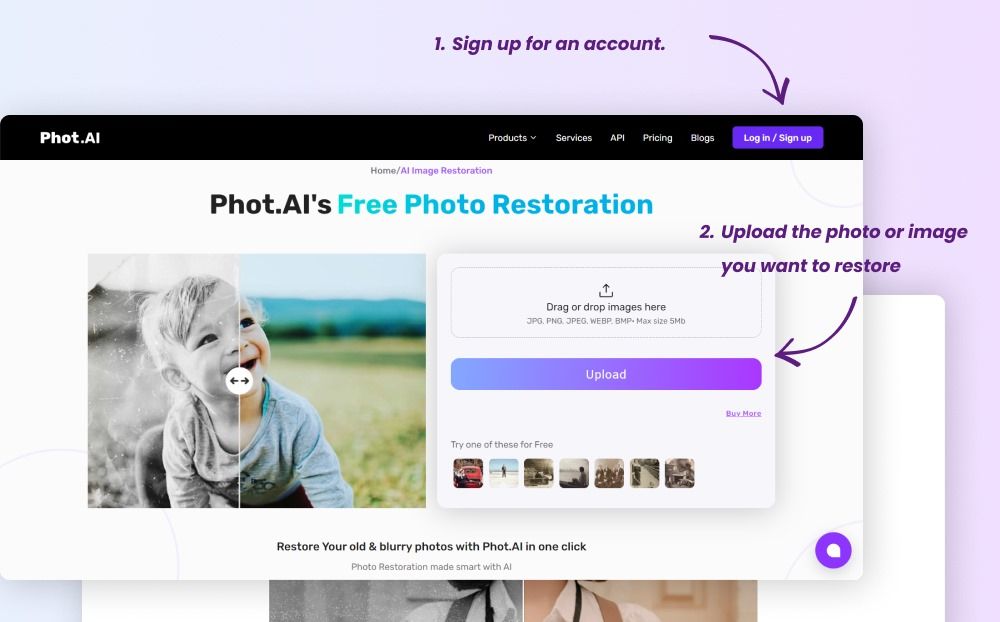 4. Upload your vintage image to the Photo Restore tool.
5. Wait for the Photo Restore tool to restore your picture to give it a better look.
6. You will be able to preview your newly restored image along with the original one.
7. Now, select the 'download' option and save the restored image to your device.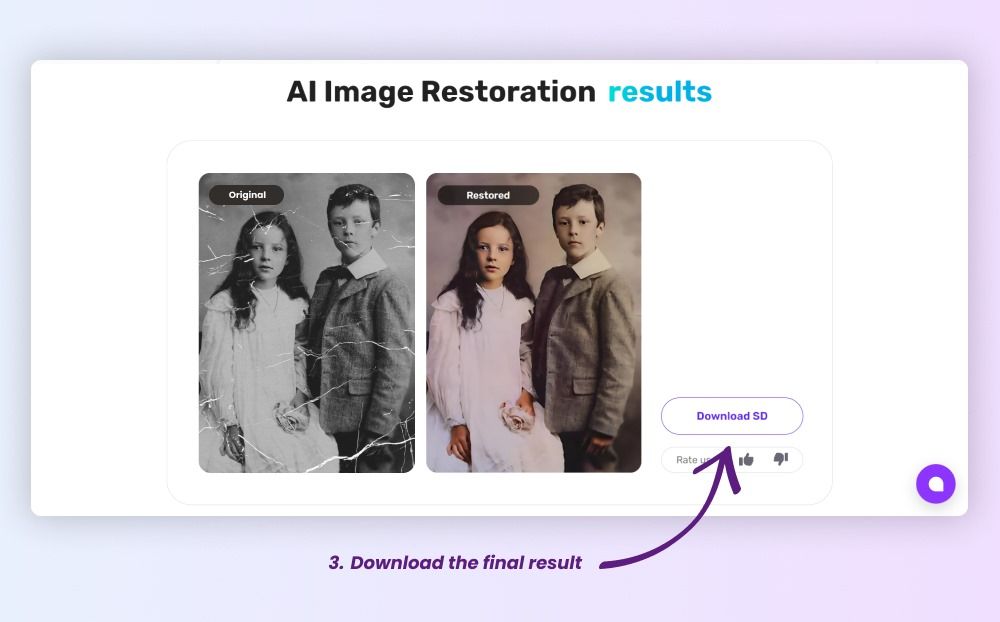 Advantages of using Phot.AI's Photo Restore tool
Phot.AI's Photo Restore tool shall become your go-to photo editing tool whenever you need that special retouching in your old pictures. Here's why:
Phot.AI's Photo Restore feature provides automatic pixel and color correction
Looking for the best ways to enhance your vintage images? Phot.AI has got you covered! We enable you to apply a full-color spectrum that includes vibrant hues while restoring your old pictures so that you can relive those memories with more flying colors.
Our restoration tool provides 100% image noise reduction
Phot.AI's Photo Restore feature provides full image noise reduction automatically. Our AI-implemented photo editing tool can transform your vintage photos in the best possible way. Upgrade your old pictures to a high-quality, clearer image with Phot.AI.
Renew old pictures with new backgrounds
Phot.AI is not just limited to restoring your old pictures! You can also get transparent background pictures in a wide range of formats.
100% safety and data security
Phot.AI ensures user privacy and data security All the pictures uploaded to our site for restoration purposes are processed in a very secure manner. We respect your privacy and safety.
Restoration of damaged areas
Phot.AI uses advanced AI technology to fill the missing or damaged areas of your old or vintage photographs giving them an outstanding new look.
Revive old black-and-white pictures into colored ones
Phot.AI's Photo Restore tool does more than just fix the quality of your old pictures. We also enable you to add exciting colors to your vintage clicks, giving them a new and vibrant look.
Not just restoration; use it as an enhancement tool!
Phot.AI brings you an excellent old photo restoration tool that not only restores your photos but also enhances them 100% automatically. We enable you to cherish your old, happy memories colorfully. No matter how old your pictures are, our AI-based Photo Restore tool will redesign your old images to provide them with the ultimate perfection.
Starting from old blurry images to images with faded colors and scratches, our exclusive AI Photo Restore feature automatically transforms your photos into their best possible look by increasing the resolution and saturation, adding pop-up colors, and more. All you need to do is upload your vintage pictures and leave the rest to our AI-based restoration tool. You will see how AI works its magic to restore old pictures.
Conclusion
The photo restoration process with professionals can cost you a lot of money and time. Therefore, Phot.AI brings you an all-in-one photo editor to make the photo editing process simpler, quicker, and easier. We are your one-stop solution for all your image editing requirements.
Get high-quality photo restoration with Phot.AI's Photo Restore feature. We bet you will be impressed with the results! Now, level up your photography game with our AI algorithm-based Photo Restoration tool. Go and try it out now!
Phot.ai is an all-in-one image editing tool featuring a powerful old Photo Restore tool. There are also AI Image Enhancers, Object Replacer, AI Image Extender, Background Generator, AI Art Generator, and other features for enhancing photo editing capabilities.