How to Remove Objects in the Background
Phot.AI has introduced the latest background object remover brush tool to help you easily clean up unwanted objects, people, and watermarks in your images.
Table of Contents
Introduction
Yaay! You have finally got the perfect picture, and you are all set to upload it. But you suddenly realize that there is an object in the background acting as a photobomber, ruining your perfect picture.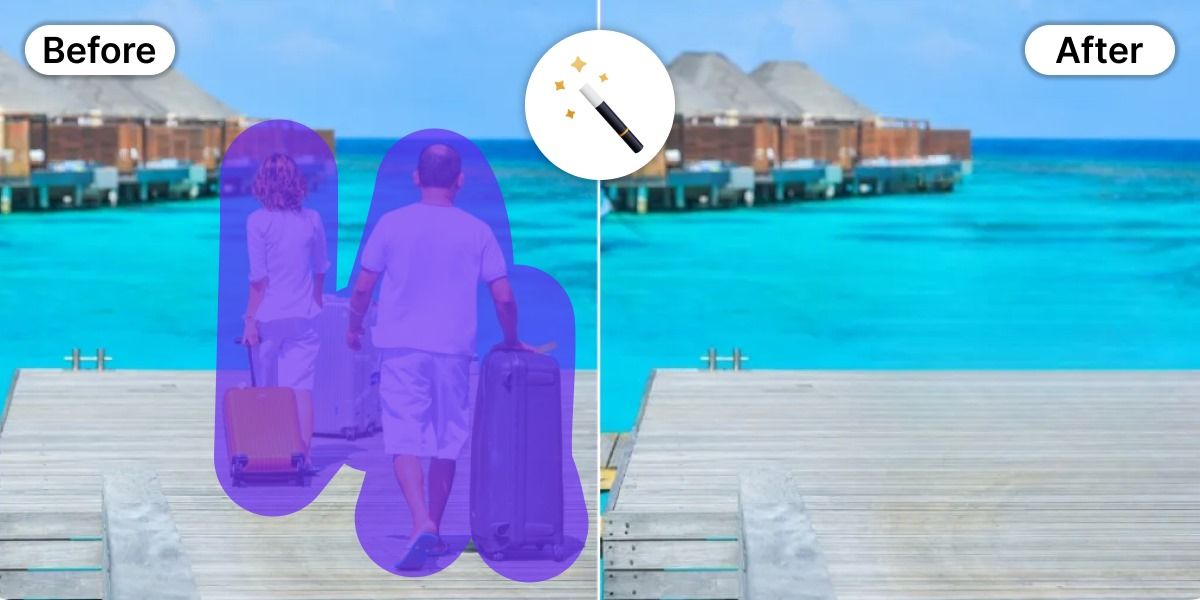 Getting a picture-perfect shot is never easy. But take a chill pill because Phot.AI has launched an Object Remover brush tool that enables you to remove unwanted objects from an image, be it a blemish or an object catching more attention.
What is an Object Remover?
If you are not a professional photo editor, removing unwanted objects from an image might be difficult for you. But not anymore, because Phot.AI's Object Remover is here to solve your hurdle.
An Object Remover is an image editing tool that enables you to erase all the unwanted visual elements in a picture within a few seconds.
How to remove objects in the background using Phot.AI's Object Remover?
Phot.AI's Object Remover brush tool comes with advanced AI technology that automatically removes all the unwanted elements from a picture. It comes with an easy text prompt that helps you edit all your images in a very short time.
Here, we have mentioned the steps required to follow for removing unwanted objects from an image using Phot.AI's Object Remover.
1. Go to the Phot.AI website and click on Object Remover.
2. Now, tap on the 'Upload Image' button.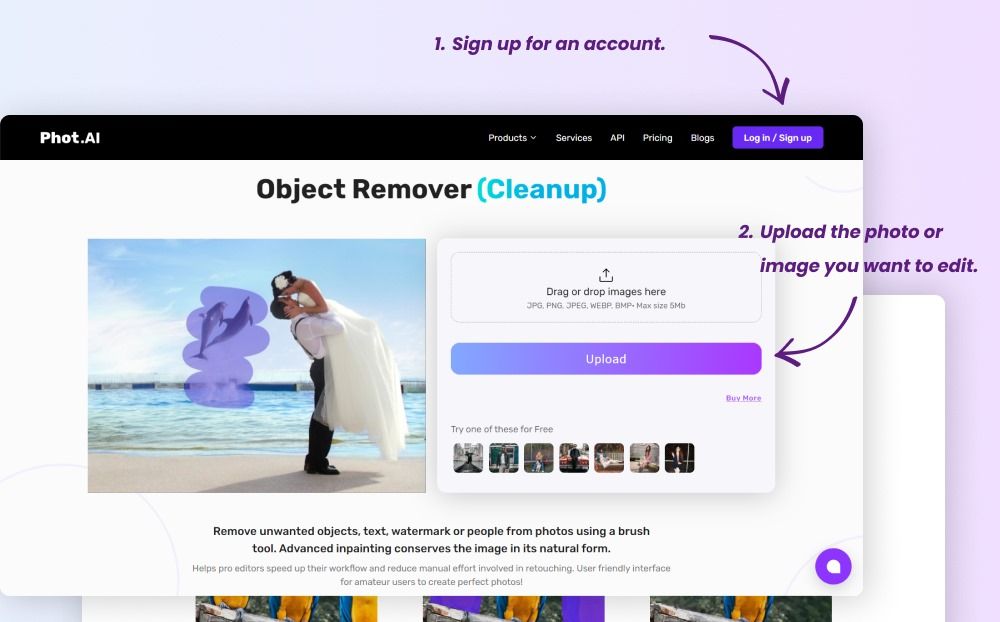 3. Choose the image from which you need to erase the unwanted objects.
4. Highlight the unwanted elements in that image and wait for the tool to remove them for you.
5. Download the image to your device.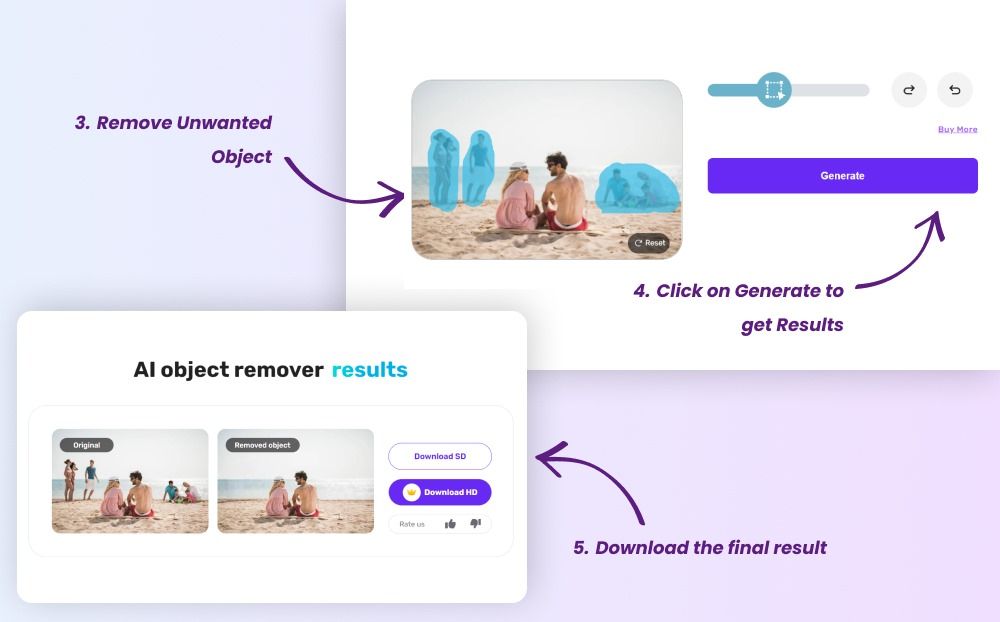 Benefits of using Phot.AI's Object Remover
Get the best-advanced AI technology implemented and exclusive Phot.AI's Object Remover to instantly remove unnecessary objects ruining your pictures!
Here are the major benefits that users can enjoy while using our latest Object Remover feature.
Superfast
We have the best AI algorithms that have been trained on extensive data sets to easily analyze various patterns. Our Phot.AI's Object Remover can extract unwanted objects in seconds, saving both your time and effort.
Get Precise Results
The Object Remover brush tool has been crafted in such an excellent way that it can easily recognize the highlighted objects in an image, providing you with 100% accurate results.
Expertise? Not Required!
Not a pro photo editor? With the help of Phot.AI's Object Remover tool, you can be one. We provide an easy user interface to edit your pictures like a pro.
Fix imperfections with the best inpainting
Phot.AI provides the best experimental feature of inpainting in the latest Object Remover. Restore all the missing parts of your picture to an upgraded level now!
Who can use this Object Remover tool?
Professional Photographers: Looking for the best way to save time while editing unnecessary objects appearing in your pictures? This Object Remover tool is here to make your editing hustle super easy! Excel in your workflow by creating more visual treats for the eyes by saving time while editing.
Marketing: Now, you can focus more on increasing your sales using Phot.AI's Object Remover tool. It will help you save time while establishing a visual presence in front of your targeted audience.
Creators: Imagine getting a picture-perfect shot for your Instagram account, but you see that a photobomber is ruining it. Now, there is no more to worry about! Remove such photobombers with Phot.AI's Object Remover feature and shine bright.
Conclusion
Enter the next level of your photo editing journey with our exclusive background Object Remover. Clear up your pictures with magic with our advanced AI-driven editing tools.
Phot.AI is an all-in-one image editing tool featuring a powerful background Object Remover. There are also AI Image Enhancers, Object Replacer, AI Image Extender, Background Generator, AI Art Generator, and other features for enhancing photo editing capabilities.